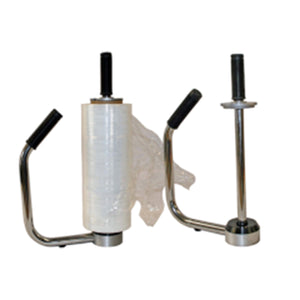 Pallet Wrap Premium Dispenser - 12in to 20in
Regular price
CALL FOR PRICE
Pallet Wrap Premium Dispenser - 12in to 20in
This high quality, Canadian-made dispenser will accommodate 12" - 20" hand wrap. Its many features include, mushroom rubber grips for comfort, a patented bearing washer which provides even film distribution, aluminum top collar, and high density polyethylene bottom collar for almost friction-free rolling. The "U" shape allows for easy wrapping at both the top and bottom of a skid.
Product Details:
Fits 12" to 20" handwrap.

Rubber grips.

Volume discounts available.
---