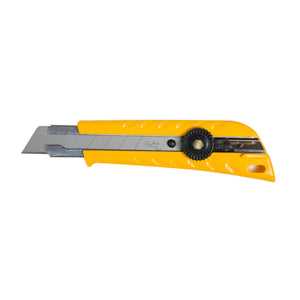 OLFA L1 5003 Pistol Grip Ratchet-Lock Utility Knife 18mm
Regular price
CALL FOR PRICE
OLFA L1 5003 Pistol Grip Ratchet-Lock Utility Knife 18mm
With this OLFA® utility knife, you're not locked into a fixed depth; its ratchet-lock mechanism gives you unlimited blade positions. The knife has a double-honed blade for superior sharpness and edge retention. Use this utility knife for heavier materials including drywall, linoleum, carpet, flooring materials, insulation, roofing materials and other construction materials. Good for flooring, carpeting, linoleum, drywall, roofing shingles.
Product Details:
Racket-lock mechanism.

Pistol-shaped, high-impact ABS handle.

Stainless steel blade channel.

No tool blade change.

Preloaded with an LB silver snap-off blade.

Volume discounts available.
---