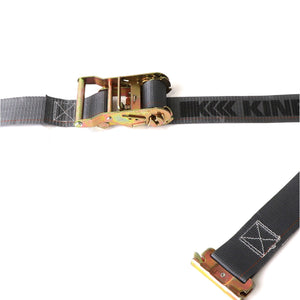 Kinedyne Ratchet Strap With Logistic End - 2in x 16ft
Regular price
CALL FOR PRICE
Kinedyne Ratchet Strap With Logistic End - 2in x 16ft
If it's durability and strength you're looking for, you've got it with Kinedyne's 2" by 16' Logistic Ratchet Strap with Spring Loaded Series E or A Fittings. This impressive tie down strap can easily handle a working load limit of 1,000 Lbs. / 455 Kgs.
Product Details:
2"x 16'.
Working Load Limit: 1000 Lbs. / 455 Kgs.
Series Type: Series E or A
Weight: 2.38 Lbs. / 1.08 Kgs.
Webbing: Kinedyne Grey 4900F Webbing
Fixed End Length: 4 Feet
Type of Tension Device: Kinedyne 811 Standard Handle Ratchet
End Fitting: Kinedyne FE8306-1 Spring Loaded E or A Fitting
Volume discounts available.
---