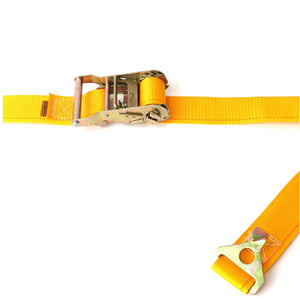 Kinedyne Ratchet Strap With Hook End - 2in x 12ft
Regular price
CALL FOR PRICE
Kinedyne Ratchet Strap With Hook End - 2in x 12ft
Keep a strong grip over your cargo with the all-purpose Kinedyne 2" by 12' Logistic Ratchet Strap with Plate Trailer Hook Fittings. This reliable Logistic Strap can be used with most Tracks to hold down your load with a working load limit of 735 Lbs. / 335 Kgs.
Product Details:
2"x 12'.

Working Load Limit: 735 Lbs. / 335 Kgs.
Series Type: Series F
Weight: 2.3 Lbs. / 1.04 Kgs.
Webbing: Kinedyne Gold 4900F Webbing
Fixed End Length: 4 Feet
Type of Tension Device: Kinedyne 811 Standard Handle Ratchet
End Fitting: Kinedyne FE8427-1 Plate Trailer Hook Fitting
Volume discounts available.
---