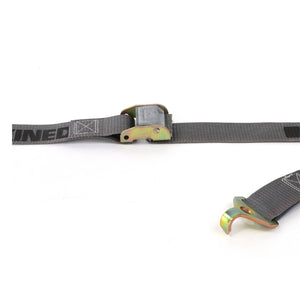 Kinedyne Cam Buckle Strap With Hook End - 2in x 16ft
Regular price
CALL FOR PRICE
Kinedyne Cam Buckle Strap With Hook End - 2in x 16ft
Hit the road quicker when you use Kinedyne's 2" by 16' Logistic Cam Buckle Strap with Plate Trailer Hook Fittings to tie down your load. Built for reliable strength with a working load limit of 735 Lbs. / 335 Kgs., this is the Logistic Strap you need to make your cargo securement job easier and quicker.
Product Details:
2"x 16'.
Working Load Limit: 735 Lbs. / 335 Kgs.
Series Type: Series F
Weight: 1.6 Lbs. / 0.73 Kgs.
Webbing: Kinedyne Grey 4900F Webbing
Fixed End Length: 4 Feet
Type of Tension Device: Kinedyne 910 Cam Buckle
End Fitting: Kinedyne FE8427-1 Plate Trailer Hook Fitting
Volume discounts available.
---